FOGOLÂRS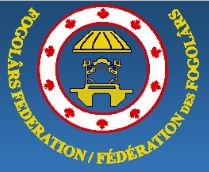 The Fogolârs Federation of Canada is an association of 1

7

fogolârs or famees across the country.

The Federation was formed in 1980 as a means of communication for the clubs, and to keep all Furlans informed of each others' activities. It publishes La Cisilute

2

times a year, and holds a Congress every two years. Activities of the Congress include workshops, an art exhibit, sightseeing, a mass and gala dinner.
The
The Famèe Furlane of Toronto was founded in 1932. Originally conceived a mutual benefit society to aid the workers and families of Furlan origin who where in need, it developed into a social and cultural club that fostered "furlanitât", values that supported the passion of Furlans for "il lavora, la casa, la famiglia, e la marilenghe".


Tel. & Fax: (905) 851-7898
E-mail fog.fed@sympatico.ca
Presidente: Giuseppe Toso
Segretaria: Sonia Bertolisi
Direttore D'Ufficio: Alberto De Rosa
Vice Presidente: Luisa Del Vel Vellus
Tesoriere: Renzo Rigutto
For more info:
http://www.fogolarsfederation.com/index.php/fogolars-of-canada
&